UC Davis Chile: an ally for Chilean universities
Those who work at the forefront of knowledge generation and technology transfer do not have it easy. They must constantly look for ways to keep up to date in a world that innovates at a vertiginous pace.
This is precisely the case of Magdalena Vicuña, Rodrigo del Canto and Francisco Zamorano. Although all three work at Universidad del Desarrollo (UDD), they are very different from each other. They have different backgrounds, jobs and challenges within the institution.
But they share one thing: In April of this year they took a trip to California as part of a collaboration agreement that has been in place since 2017 between UDD and the UC Davis Chile Life Sciences Innovation Center.
UC Davis Chile belongs to Global Affairs of the University of California, Davis (UC Davis) and has been operating in Chile for 6 years within the framework of the CORFO program of International Centers of Excellence; currently belonging to the National Agency for Research and Development (ANID).
UC Davis is dedicated mainly to undergraduate teaching, doctoral research and the generation of knowledge in a wide range of areas. It takes its name from the city of Davis, where it is located, although it could be considered a city in itself, with more than 2,144 hectares of extension.  
We had to make some long walks, because the university is not a campus, it is a city. It merges the city with the campus" recalls Magdalena Vicuña, director of the Department of Management and Development of Academics (DGDA in Spanish) at UDD.
For Magdalena it was her first visit to the UC Davis campus and she was surprised by the interest she perceived in cooperating with the Chilean University. "Even though they are at a much higher level of development, they were interested in working with us. I had a limited number of meetings scheduled, but the amount of time they spent afterwards was their decision". 
Magdalena met with professionals and academics from UC Davis belonging to units of the School of Education, Interdisciplinary Research, Corporate Engagement, the Center for Educational Effectiveness, the C-STEM Center, among others, with the goal of understanding the work models at UC Davis and looking for tools, methodologies and tangible examples to apply in the management of the DGDA. 
"At UC Davis they have an initiative of an annual teaching innovation congress where academics show their research and results of how they improved what happens in the classroom. And that would be interesting for me," says Magdalena. 
Somewhat different is the case of Rodrigo del Canto who traveled for the third time in the framework of the collaboration agreement that both institutions have maintained for 5 years now. 
"I have been to Davis three times. The first time I went to improve my skills in the Licensing Academy program organized by PIPRA, and I worked as coordinator of regulatory, legal and intellectual property matters at UDD. The second time I went as deputy director of technology transfer and now I was leading this mission as director of Technology Transfer at iCono UDD, a position that I partly owe to that first trip", says Rodrigo.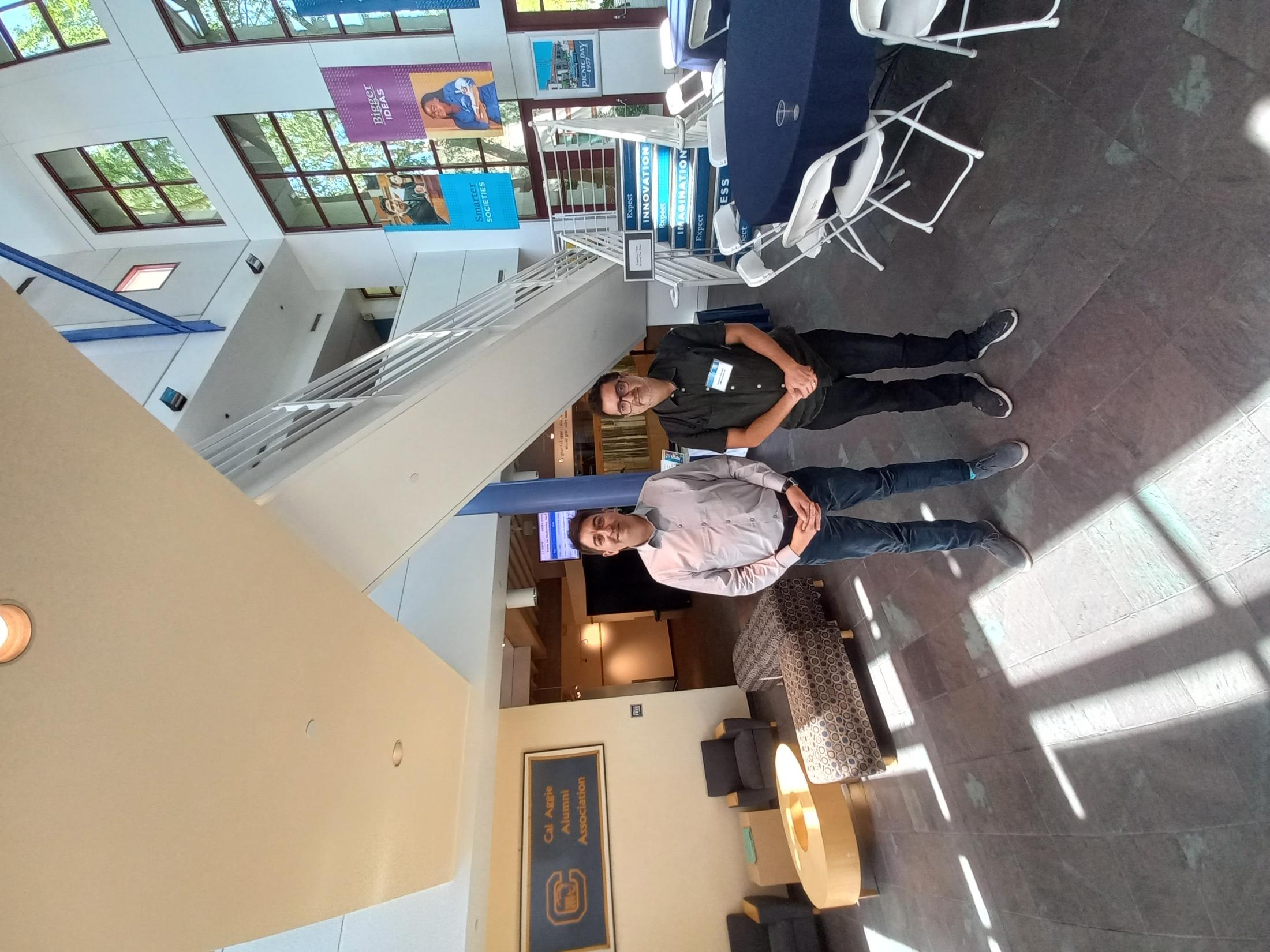 Rodrigo del Canto and Francisco Zamorano (from left to right)
As a result of his experience, Rodrigo recommended Francisco Zamorano, a researcher at UDD's School of Design, to participate in the University of California Entrepreneurship Academy (UC EA). 
The UC EA helps undergraduate students, postdocs and professors from all disciplines and academic fields gain the knowledge and networks necessary to identify, develop and validate the commercial potential of their research or idea.
 Francisco was looking to acquire tools to promote the development of his TAMI project (a tangible interface that allows trigonometry to be taught interactively), to a stage where he could start up with his co-investigator from the same faculty, Catalina Cortés. 
"We had an idea, but that idea did not necessarily respond to the needs of the market," explains Francisco. "One of the goals of this trip was to define the next phases of the project, and we were able to do that".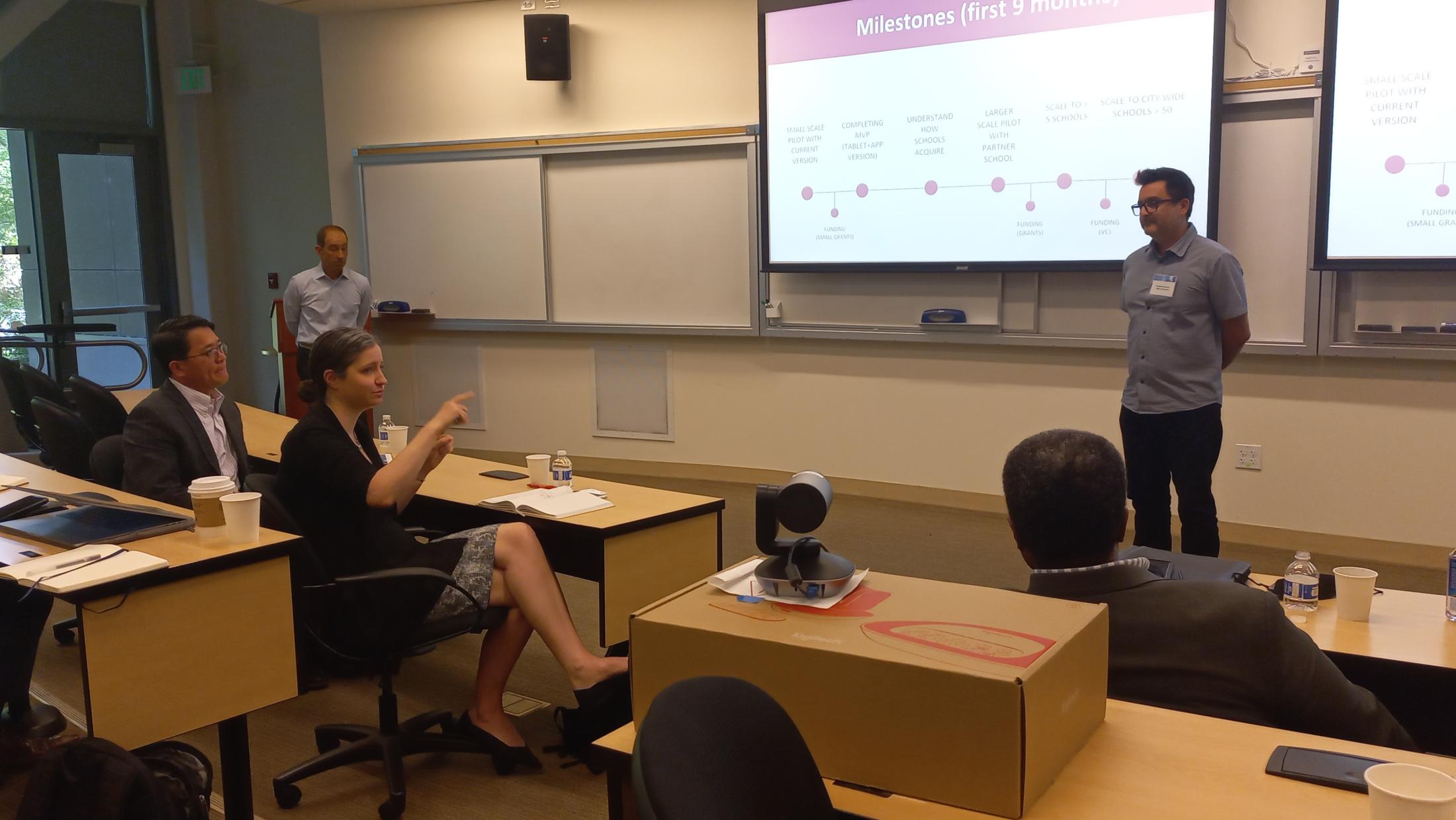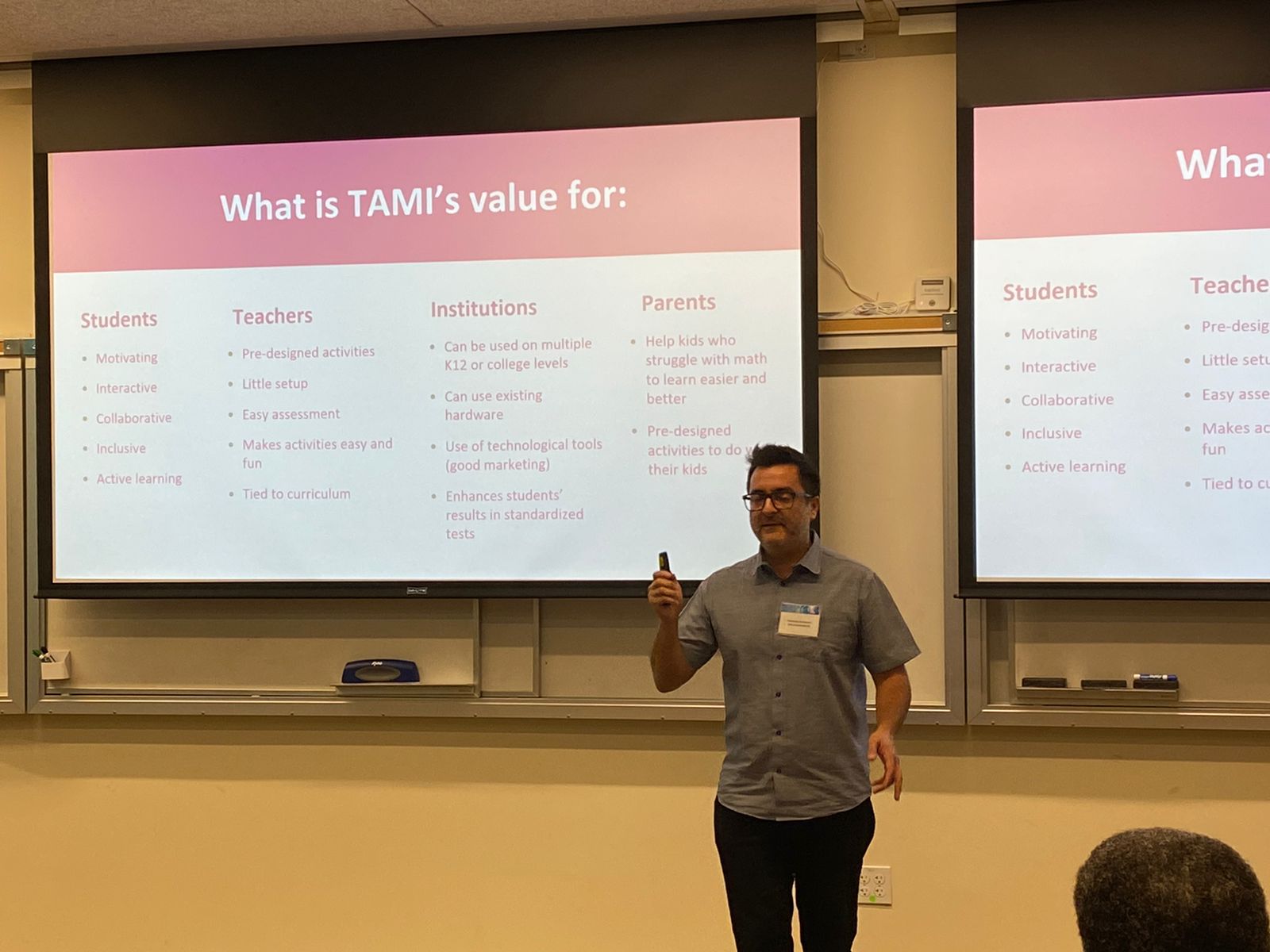 Francisco was selected to present his TAMI pitch to an expert panel at the UC EA.
Francisco attended the UC EA alongside faculty members leaders of UC Davis projects, other students and entrepreneurs who were invited to share their success stories. 
"I got to talk to one of the guests who had already worked in the education technology market and it was great to talk to him, more than anything else to realize that getting in there is difficult and challenging, and he gave me tips to facilitate that entry," recalls Francisco. 
Francisco even assures that he would like to return. "I would be happy to go back. Not with the same objective, because it is so well put together that everything was super clear. But in another area, by all means", he affirms. Like him, Magdalena and Rodrigo share the desire to continue discovering the options offered by the alliance between the two institutions. 
UDD and the UC Davis Chile Life Sciences Innovation Center have maintained a collaboration agreement since 2017, which they renewed in March 2022 for the next 2 years. This aims to continue initiatives in the areas of teacher training, innovation, technology transfer, telemedicine and seeks to expand to other areas such as engineering, design, food and internationalization of academic programs.
Primary Category