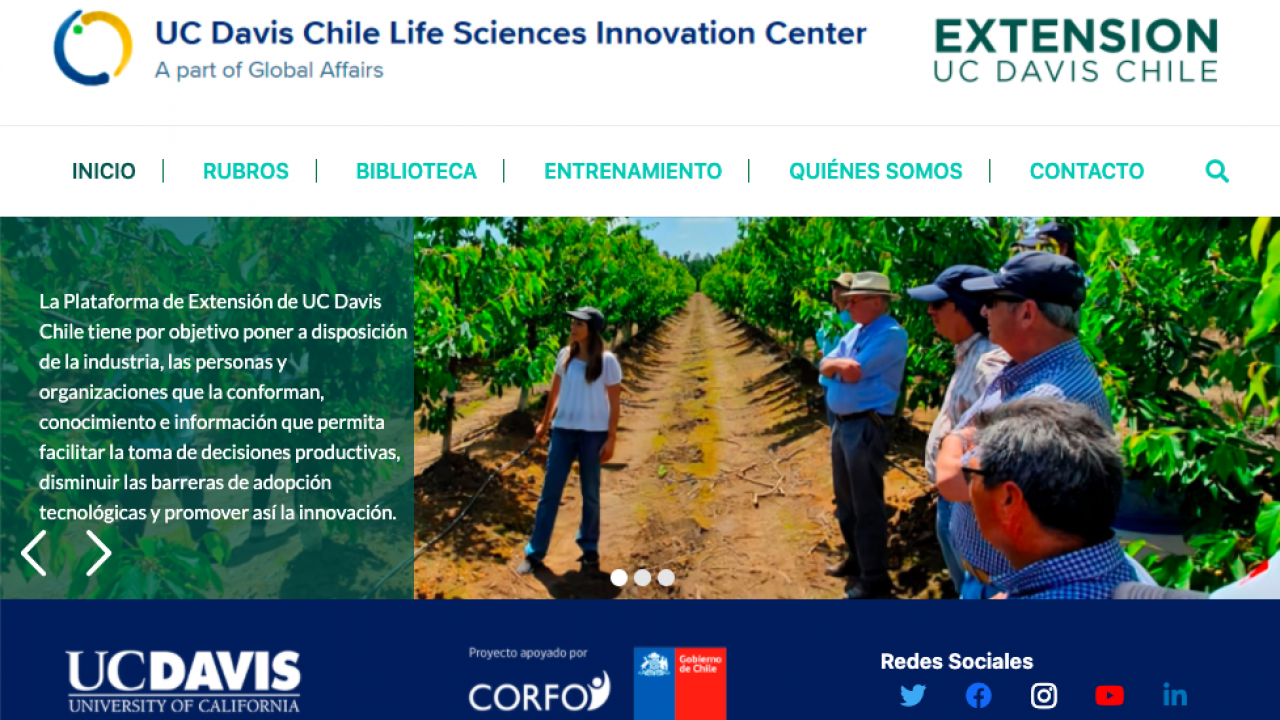 UC Davis Chile Extension Platform
After months of work, UC Davis Chile Extension Platform www.extension.ucdavis.cl is online. The website makes available to users knowledge and information achieved in Chile and California to support the productive decision-making and reducing barriers to adaptation and adopting solutions to agriculture.
"The Extension Platform is not just a website where information is gathered but a platform that combines knowledge and information, characterized by responding to real problems for the industry,  it is science-based, being applicable, easy access and understanding," said Leticia Rojas, Coordinator of Innovation and Extension at UC Davis Chile.
To reach these objectives, a detailed collaborative work that have been and are continuing to be made during which problems are identified and prioritized with the support of each industry (farmers and their organizations, related companies and consultants; academia and research centers), a key task to identify shortcomings and improve competitiveness. In addition, the materials to be presented, whether existing or elaborated, are carefully selected to deliver knowledge and validated information, using methodologies for editing and design that also allow for easy understanding.
Samuel Barros, head of the Vid-Vino Business Unit at Univeros and former UC Davis student, who was also invited to work in the viticulture area of the Extension Platform, commented, "It has been a challenge from the perspective of being able to identify the most relevant information in order to respond to the problems faced by producers and present it in a systematic and practical way.  When I studied at UC Davis I was able to learn how their extension system works and the great impact it has on production, being the link between researchers and, in this case, winegrowers and winemakers. I would dare to say that it is an important part of the success of agriculture in California, making the knowledge generated at the University available to different industries.
Through the Extension Platform, it is also possible to carry out online training, which allows for the dissemination of knowledge and tools that can potentially lower the barriers to the adoption of solutions and provoke changes in the participants, strengthening or developing new capacities and skills. These trainings are carried out by outstanding national and California advisors and academics, generally within the framework of UC Davis Chile's extension programs.
Based on this working model, the Extension Platform will be periodically updated, incorporating new knowledge and information needs and articulating new collaborative networks. 
Lovell Jarvis, Executive Director of UC Davis Chile highlights, "the first item of the Extension Platform is clear and complete, providing very useful information for producers and extension agents. This information will help the national agricultural sector to continue progressing as one of the main suppliers of food and wine in the world".
Currently, those who visit the Extension Platform will be able to access
- Knowledge bank: organized in categories, which make reference to a particular industry or a transversal theme to diverse industries. The information contained within each item is ordered based on the problems identified and prioritized, in the different stages of the production and/or processing cycle or areas, as appropriate.
- Library: where it is possible to access all the materials available on the platform, allowing a search by item or type of extension material. 
- Training: in this section, online training is available, organized in modules, with live and recorded sessions.