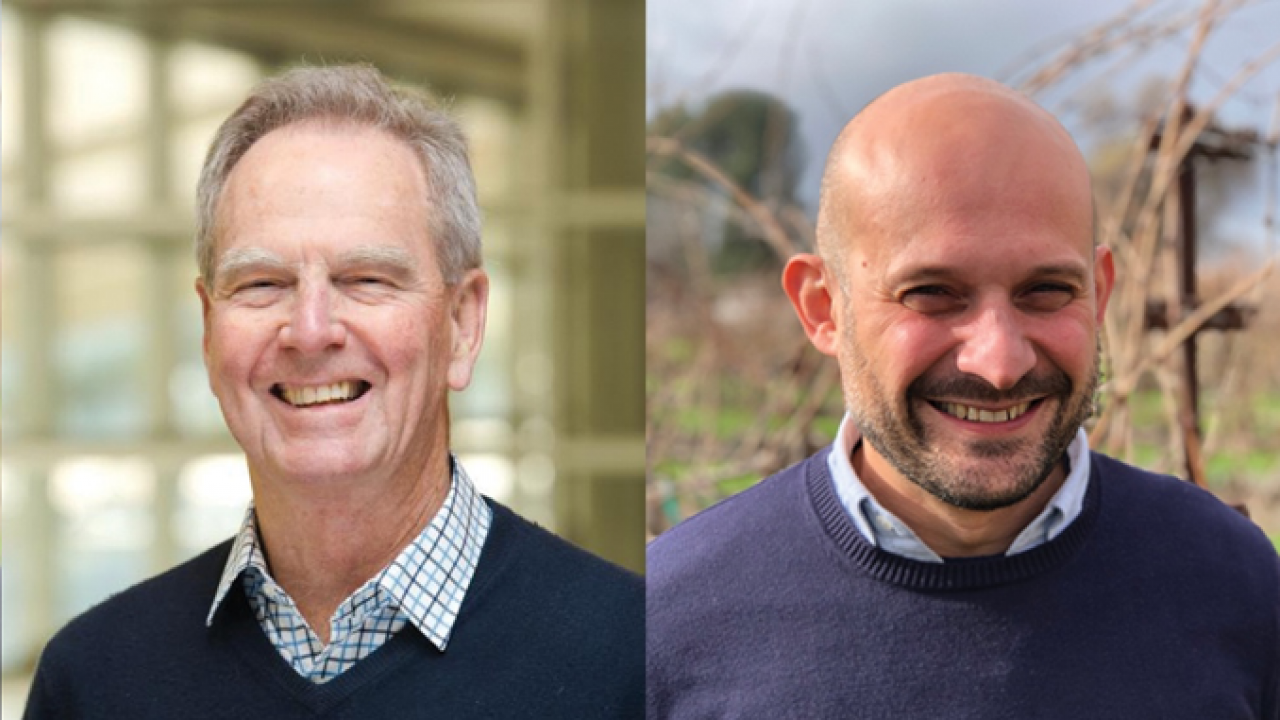 UC Davis Chile within Global Affairs has appointed two new leaders: Lovell "Tu" Jarvis, a professor emeritus in the Department of Agricultural and Resource Economics and the faculty director of Global Centers for Latin America and the Caribbean, has been named the center's Executive Director, and Dario Cantu, associate professor of systems biology and Louis P. Martini Endowed chair in viticulture, has been named the center's Academic Director.
"We're very pleased to welcome the extensive international, leadership, and scientific experiences that Tu and Dario bring to our UC Davis Chile Life Sciences Innovation Center," said Cindy Kiel, executive associate vice chancellor for research administration and president of the UC Davis Chile's Board of Directors. "We look forward to continuing research collaborations and to furthering our strong history of partnerships with Chilean universities and institutions."
As executive director, Jarvis is responsible for providing oversight and leadership for all of the center's activities in its second phase implementation with funding from the Corporación de Fomento de la Producción de Chile (CORFO). Jarvis will provide overall leadership for the center, including cultivating administrative relationships between UC Davis Chile and Chilean institutions to generate partnerships and opportunities for funding. Jarvis also currently provides leadership and planning oversight for the UC Davis Global Centers initiative within Global Affairs as the faculty director of Global Centers for Latin America and the Caribbean, which is building on existing partnerships and linkages in the region—including activities through UC Davis Chile.
A long-time champion of international education and collaboration, Jarvis brings a deep level of understanding and lengthy experience researching within the region, including in Argentina, Brazil, Colombia, Mexico, Uruguay, and, especially, Chile. With a B.A in economics with highest distinction from the University of Kansas and a Ph.D. in economics from MIT, Jarvis' research focuses on agricultural development and agricultural policy in less-developed countries. He has consulted extensively for the U.S. government, international agencies such as the World Bank, foreign governments and private firms. He also chairs the Chile-California Council, a bi-national nonprofit organization facilitating mutually beneficial exchanges between California and Chile. 
As academic director, Cantu is responsible for providing scientific leadership for UC Davis Chile, including for the center's academic and research projects, working collaboratively to generate new projects and initiatives, and serving as the primary liaison for establishing research and project-based linkages between UC Davis academics, departments, colleges, and schools and their Chilean counterparts.
Cantu has deep experience researching and collaborating with UC Davis Chile, wine industry partners, and scientists in Chile for the past several years; most recently leading a first-of-its-kind genetic identification project for the most relevant varieties for the Chilean wine industry, in partnership with Universidad Andrés Bello (UNAB), Concha y Toro, and VSPT Wine Group. He has chaired the UC Davis Department of Viticulture and Enology's International Relations Committee since 2015, has chaired the Viticulture and Enology Graduate Group since 2017, and was named a Chancellor's Fellow for Excellence in Teaching and Research in 2019.
With a master's degree in agricultural sciences from the University of Milan and a Ph.D. in plant biology from UC Davis, Cantu researches plant and microbial genomics, with a focus on grapevines, disease resistance, and grape pathogens. He has authored over 60 scientific articles and book chapters, and has numerous major research grants, including from the California Department of Food and Agriculture (CDFA), Mars Incorporated, National Science Foundation (NSF), and United States Department of Agriculture (USDA).
Jarvis succeeds Alan Bennett, distinguished professor of plant sciences and founding executive director of the UC Davis Chile Life Sciences Innovation Center, who has retired from his role leading UC Davis Chile as executive director. Bennett founded the center in 2015 through funding from CORFO, collaborating with the Chilean government to build research partnerships and address industry needs.
"In founding and leading this center for innovation in Chile, Alan has had tremendous impact on the agricultural sector in Chile and in building UC Davis partnerships in the region. His contributions have led to several lasting research collaborations and institutional partnerships, setting a foundation that our Global Centers initiative is building off of in Latin America and the Caribbean," said Joanna Regulska, vice provost and associate chancellor of Global Affairs.
Given a shared Mediterranean climate and alternative growing seasons, the longstanding history between UC Davis and Chile has led to several current Agreements of Cooperation between UC Davis and universities in Chile, and more than 60 UC Davis faculty have research or academic linkages in Chile—collaborations which have resulted in more than 750 co-authored publications since 2010. In the 1960s and 1970s, a group of more than 50 Chileans studied at UC Davis and since have been widely credited with helping to transform the Chilean agriculture industry.