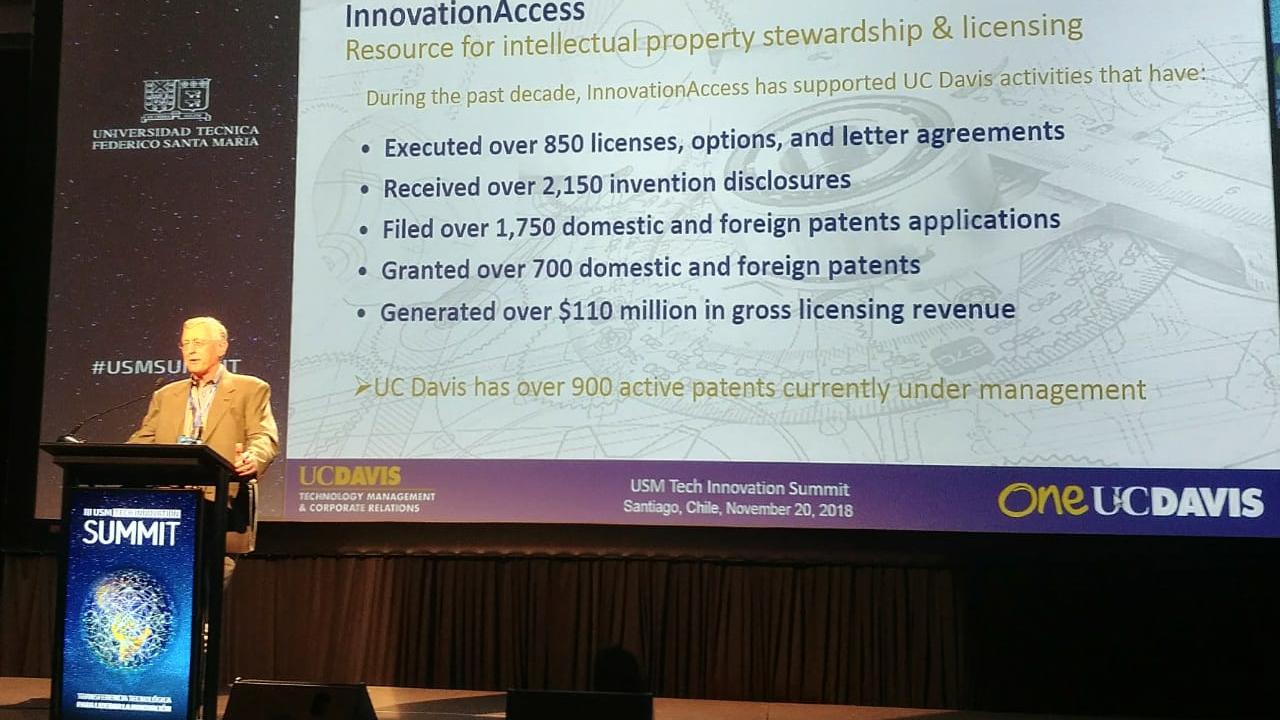 After 10 years, William "Bill" Tucker, Executive Director of Innovation Access at UC Davis, returned to Chile to participate in the III USM Tech Innovation Summit, event organized by the Santa Maria University (USM), academic partner of UC Davis Chile since December 2017. The Summit which was held last 20 November is the nation's main event on artificial intelligence, new digital trends and scalable enterprises. Doctor Tucker's expertise lies in this latter area.
"I think the country is much more sophisticated. Ten years ago just this event would not have been possible which says to me that the community and the culture have changed to become one that supports innovation and entrepreneurship," he comments.
When Tucker came to Chile for the first time, he was the Executive Director in charge of the operations for commercialization the technologies of the entire system of the UC (between 2003 and 2016). In 2017 alone, the commercialization of UC's inventions on the part of start-ups generated an income of around US$126 Million (more than $85,000 millions of pesos).
Despite the impressive figures, Tucker assures "that is not really the reason why we are involved in technology commercialization; we are here to help move the technologies into the market so businesses can create public benefit from the research…..the value is the economic development, the companies which are formed, the jobs created, the momentum," he explains. And the figures endorse it. In the same 2017, the 10 UC campuses supported the creation of 96 new start-ups and the disclosure of 1700 inventions (approx. five per day) and generated employment for 18,000 Californians.
Now working at the Davis campus, Tucker in a way is returning to his origins as a researcher in agricultural biotechnology, since he has a PhD in microbiology from the University of Queensland (Australia). He is in charge of InnovationAccess, the first link in the chain of UC Davis' Technology Management & Corporate Relations (TMCR) which aims to connect research generated by the university to the marketplace and is focused specifically on the protection and commercialization of intellectual property as well as fostering entrepreneurship within the campus community.  
"Davis was not a natural hub of innovation. It was a farming and universtiy town. What we are doing at Davis is to kick-start an entrepreneurial ecosystem which is not easy,  especially when do we not have a lot of capital for investment, but we have some good ideas," analyses Tucker, who has an MBA from St. Mary's College in Moraga (California).
He adds, "Throughout the world, when we talk about technology commercialization, we talk about Silicon Valley and Boston, Stanford or the MIT, but these are the exception, not the rule. Most places do not have the Bay Area (San Francisco) entrepreneurial ecosystem, so you have to do something different…... Do it your own way according to the community in which you are living."
Although there is no formula, Tucker affirms that it is fundamental for entrepreneurs to learn not to be overly concerned about failure, that they should just aim for what they want and not take any notice when people say that they won't be able to accomplish it.
How to achieve it? "You need to have confidence to do it and this comes from living in the community which has it. If you are alone, it is a solitary task, but if you find a group of people who are doing it and are successful, it will grow and this is what happened with Silicon Valley in the 60s and 70s, a group who says,  'We can do it,'", he explains.  
He adds, "So yes, you have this community of people with a common connection (in the case of USM). They are from this university, engineers who are all thinking along the same lines, bringing this community together, doing what we are attempting to do (in Davis): supporting our alumni mentoring the next generation by individuals who have already achieved success."
Tucker spoke in the III USM Tech Innovation Summit about "Trends in Technology Commercialization in the U.S. – a UC Davis perspective". He mentioned that traditional patenting and licensing alone are not sufficient in themselves to facilitate technology commercialization. Many early stage technologies are best developed through new companies (and not those already established). In this new scenario, faculties and students increasingly wish to participate in the development of their technologies and in parallel the Government is requesting that universities contribute to the economic development.   
Aligning itself with this new scenario, UC Davis has created 108 start-ups since 2004, which have generated more than 650 jobs and raised US$ 1,1 billion in capital. Naturally some of these start-ups are related to agronomy, since UC Davis is the university Nº 1 or 2 in the world in this area. For example, in 2013 a PhD student developed a method to measure evapotranspiration which enables automatic irrigation management. Thus Tule Technologies was created. But considering that UC Davis imparts careers in the most diverse areas of knowledge, the start-ups cover every field: medicine and health (the majority), engineering, computing, etcetera. In fact, UC Davis' innovation center in Chile (UC Davis Chile) is considered to be a space for innovation, with laboratories, infrastructure and possibilities for the internationalization of start-ups.
Moreover, in the academic year of 2016-2017, at UC Davis private companies contributed U$S 62 million for research. Between 2016 and 2017 UC Davis disclosed 294 inventions and carried out 170 patent applications adding to the 240 active patents and the 108 license agreements. In total, the campus, the northern-most campus of the University of California, receives royalty revenue in the amount of US$ 14 million.