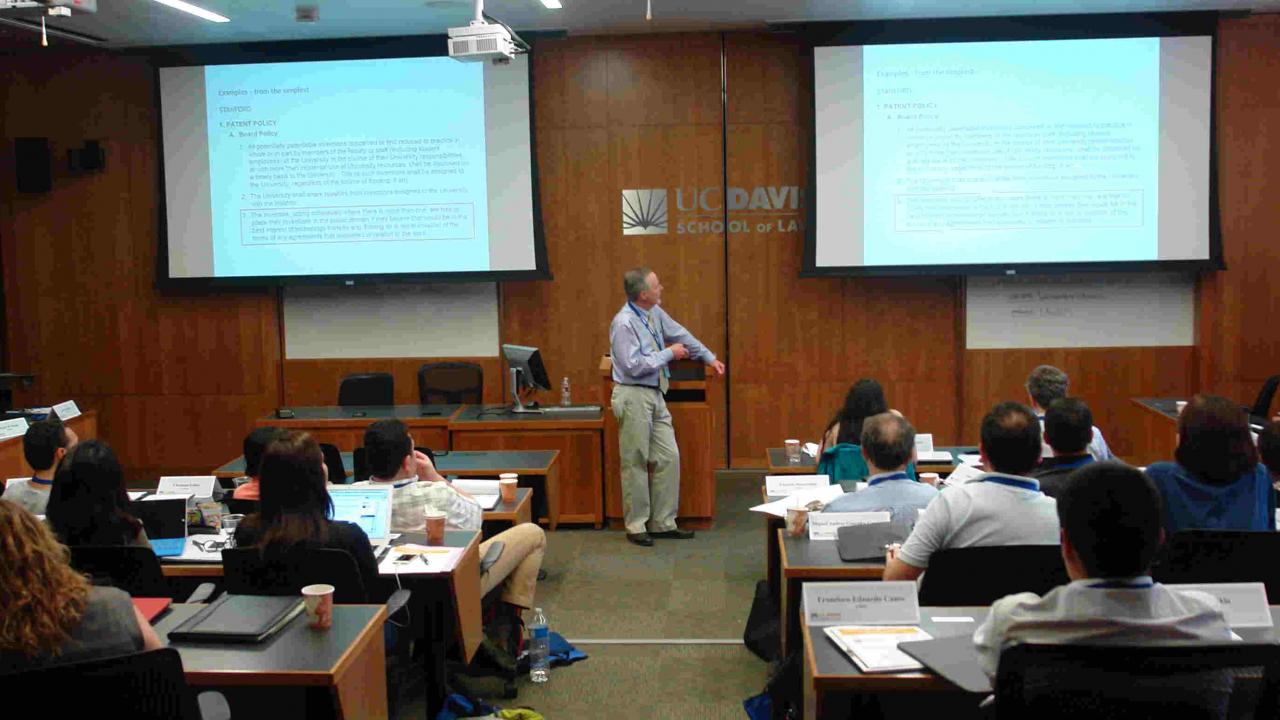 "Science-based innovation is built upon research and discovery. However, the technological discovery is not the innovation itself, but requires ' translation'," says Dr. Alan Bennett, Executive Director of the University of California-Davis in Chile (UC Davis Chile). Because of this, in 2011 PIPRA (Public Intellectual Property Resource for Agriculture), an institution co-founded by Dr. Bennett, in conjunction with the School of Law at UC Davis began to offer the "Licensing Academy: Intellectual Property and Technology Commercialization"™ , a tool to achieve this 'translation'.

This Monday June 22th, Dr. Alan Bennett, CEO of UC Davis will launch the 5th edition of the Licensing Academy. This version has highest participation: 48 attendees representing 19 countries in the Americas, Europe, Asia, and Africa. Chile is the country with most participants with 20 professionals representing 10 institutions, including UC Davis Chile's academic partners, the universities of Tarapacá (UTA) and Andrés Bello (UNAB). 

"The program covers very relevant content for all professionals who want to engage in work related to technology transfer and intellectual property of universities; for example, how to manage intellectual property and structure transfer offices in terms of funding and personnel in order to link up with the private sector," explains Monica Alandete-Saez, Director of Analyses & Educational Outreach of PIPRA.

She adds: "We offer workshops on the valuation of intangible assets, licensing and contracts. In addition, we facilitate the creation of an international network of professionals that effectively brings fundamental wealth when developing within the global world. In our field trip we will visit the Silicon Valley." 

As for the high participation of Chileans, Alandete-Saez said: "The long and fruitful relationship between the University of California and Chile has led to the high presence of Chilean professionals in events in California, especially in those activities organized by PIPRA." This is thanks to PIPRA, whom together with the Foundation for Agrarian Innovation (FIA), worked closely in Chile between 2009 and 2014, providing training and support in the management of intellectual property and technology transfer to national universities and public sector linked to innovation.

The fifth edition of the Licensing Academy will take place between June 22 and July 3 in Davis, California. As David Jefferson, Legal Policy Analyst and PIPRA, says, thanks to the support from the Organization of American States (OAS); the World Intellectual Property Organization (WIPO); and the law firms Morrison Foerster and Kilpatrick Townsend, 15 attendees have scholarships, including three Chileans. The Licensing Academy so far has trained 190 professionals, plus 70 participants of a similar program that has been offered twice in Mexico. 

"We are pleased to see that after five years, the program has been so successful, this tells us that there is a need to offer this program to Latin America and the rest of the world," concludes Alandete-Saez.