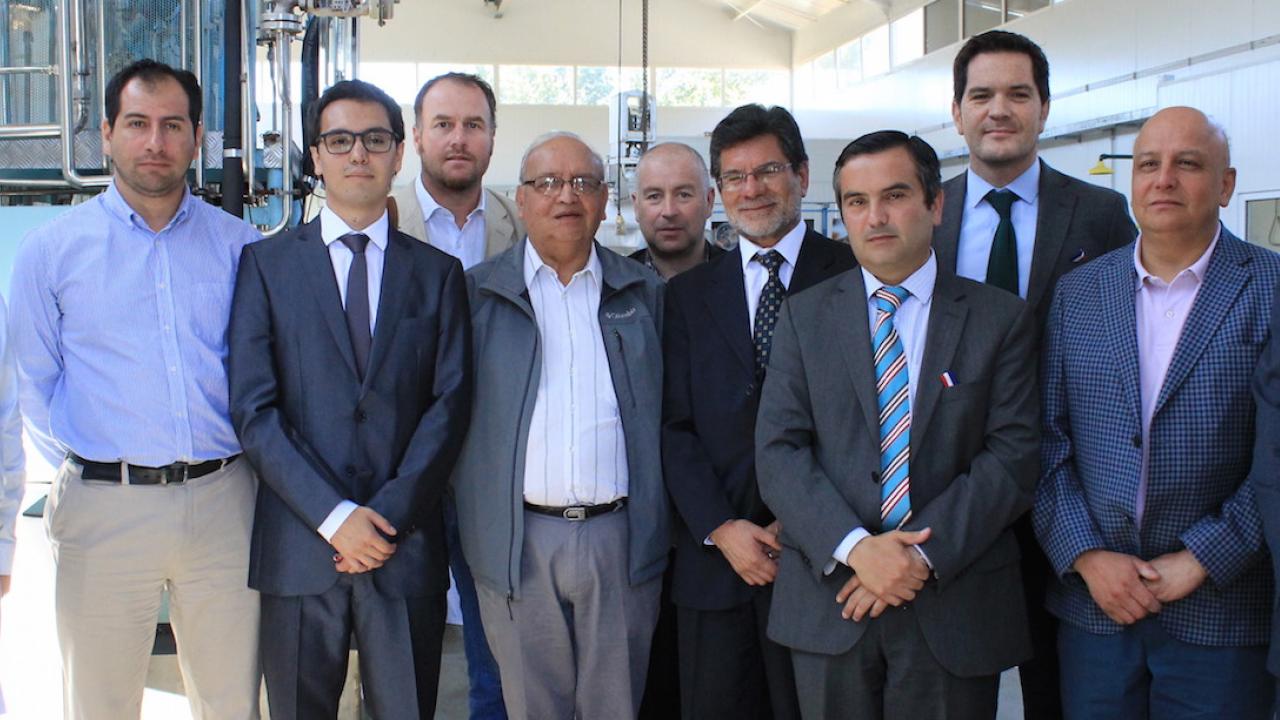 Puerto Montt, Thursday, January 21, 2016. - Leonardo de la Prida, Governor of the Los Lagos region; Adolfo Alvial, Director of Corfo Lakes region; Eduardo Zavala, CEO of Patagonia LabSpace; Dr. Alan Bennett, Executive Director of the University of California Davis-Chile and Felipe Jara, Deputy of Corfo´s Ecosystem Entrepreneurship, inagurated Patagonia LabSpace, the first center for scientific co-work and product scaling in Chile. Patagonia LabSpace will focus on  projects in areas relevant to the south, such as aquaculture, livestock and agriculture. In its first year, its operations will be funded by the Corfos Co-Work line.
Patagonia LabSpace is one of the "Research to Business Catalyst" (R2B Catalyst) centers, a company created by the alliance between UC Davis Chile and STGO LabSpace (Austral Institute Research Foundation), two institutions with experience in scientific, technical and entrepreneurship concepts; in intellectual property management and technology transfer. Their third partner is MGMS consulting. R2B Catalyst is the first scientific hub in Chile for the development of business and the generation of synergies between researchers, entrepreneurs, mentors and investors.

"For our region it is a privilege to have a place as unique as Patagonia LabSpace, for companies that are already working in the area, for the ones that will arrive and for the new generations of entrepreneurs to be inspired by this model of collaborative meeting. Our objective is to make the Los Lagos region a diversified and modern technological center," said Leonardo de la Prida, Governor of the Los Lagos region.
"In a new approach, Patagonia LabSpace makes use of the infrastructure and equipment of BAL Biofuels, a consortium of R&D that also had the support of Corfo. In addition, this co-scientific work forms part of a larger initiative in the region of Los Lagos, because it adds on to three other spaces that work in different fields of science, such as Co-Work Patagonia, COWO Puerto Montt and Nube Co-Work Osorno. In short, not only have we achieved an interesting offer of four co-works, but at the same time it is also diverse," explained Adolfo Alvial, Corfo Director of the Lakes region.

"Patagonia LabSpace started operating only a few weeks ago and we already have two projects: Paihuén, which develops cosmetics from raw Chilean plants and Veterquímica with vaccine services of, antibiotics analysis of search for new aquaculture treatments. We invite all researchers and entrepreneurs to dare to innovate," said Eduardo Zavala, CEO of Patagonia LabSpace.
"UC Davis Chile is in the process of replicating, in Chile, the successful model of the entrepreneurship program called 'Venture Catalyst' of the University of California. A key part of this network of entrepreneurship is R2B Catalyst ... As UC Davis are waiting to deliver our expertise in identifying high-potential technologies that are the foundation of new companies. So good jobs can be created and add competitiveness to the regional and national economy, "said Dr. Alan Bennett, CEO of UC Davis Chile.

"One of the challenges for innovation in Chile is that we do not have the spaces for science-based startups to develop their products, which can range from a detergent additive with UV protection for clothing to probiotics for lactose intolerance. Initiatives such as these are being supported by R2B Catalyst. The installation of one of its offices in Puerto Mont, also manifests Corfo´s interest to decentralize our country," said Felipe Jara, Deputy Entrepreneurship Ecosystem Corfo.
The "R2B Catalyst" Centers, aside from owning the latest laboratory equipment, the LabSpace program DRIVE, have a team that advises on issues as diverse as legal and regulatory corporate aspects associated with the formation of technology-based startups, the formation of business plans and models, national and international marketing networks and access to venture capitalists.
"R2B Catalyst" offers a number of programs such as the Inventor Advantage Program- senior IT consulting by UC Davis Chile on intellectual property; Legal-Net support in corporate, labor, tax and intellectual property issues; Mentor Net- a network of mentors and first-tier; Venture Net- alliances with investors, investment funds and other sources of capital. It also provides accounting, legal, communications, graphic design, industrial design, prototyping, and mentoring services.
More information about R2B Catalyst and Patagonia LabSpace: www.r2bcatalyst.com
For the opening of Patagonia LabSpace we counted on the presence of the science-imaging sample "Fotoconciencia" funded by CONICYT´s Explora Program through Unidad de Extensión Científico Académica in the Puerto Montt campus of the Austral University of Chile. The exhibition combines art with scientific research.
ABOUT PATAGONIA LABSPACE
Patagonia is an area of ​​600m2  with a pilot plant for scaling science-based products. This allows scientists to carry out tests on small and medium scale processes along with agitation and aeration, require control parameters such as temperature, pH and dissolved oxygen. As for laboratory equipment, it has a HPLC for high-performance liquid chromatography, gas chromatograph coupled to mass spectrometry, multiplate reader, among others. Finally, Patagonia LabSpace has instruments for microbiological growth: a laminar flow hood, an orbital incubator, an autoclave and an oven.
R2B CATALYST CENTERS
Besides Patagonia LabSpace, "R2B Catalyst" has STGO LabSpace, with a chemistry lab and prototyping workshop, and UC Davis Chile LabSpace. The latter center will begin operating during the first half of this year in the corporate offices adjacent to UC Davis Chile, in the commune of Providencia (Santiago). Installing UC Davis Chile LabSpace also has the support of Corfo, in the line of Special Projects for the Improvement of Entrepreneurial Ecosystem.
ABOUT SANTIAGO LABSPACE
Since the beginning of its operations in January 2015, STGO LabSpace received 35 scientific projects, assisting in raising capital to 19 of them. Two of these initiatives are already in the sales stage. STGO LabSpace collaborates with Start-Up Chile and Austral Incuba, two of the main actors promoting entrepreneurship in science and technology nationwide.
ABOUT THE UNIVERSITY OF CALIFORNIA, DAVIS IN CHILE (UC DAVIS CHILE)
After more than 50 years of collaboration between Chile and UC Davis, UC Davis Chile is the first step in the internationalization of this university, ranking No. 1 in the areas of agriculture, forestry and veterinary medicine. It has the support of Corfo´s Programme to Attract International Centres of Excellence. In a first stage, UC Davis Chile is focused on adaptation to climate change, post-harvest technology, viticulture and enology, and breeding. Its founding partners are the universities of Tarapaca, Andrés Bello and Talca along  with the vineyards Concha y Toro and VSPT. More information www.ucdavischile.org  
Press contact:  Eliette Angel, Communications UC Davis Chile +56 9 4275 4718 
Rodrigo Villanueva, Director Communications Agency Wow Factor +56 9 9321 5154
Andrea Herrera, Journalist Wow Factor +56 9 8754 1482