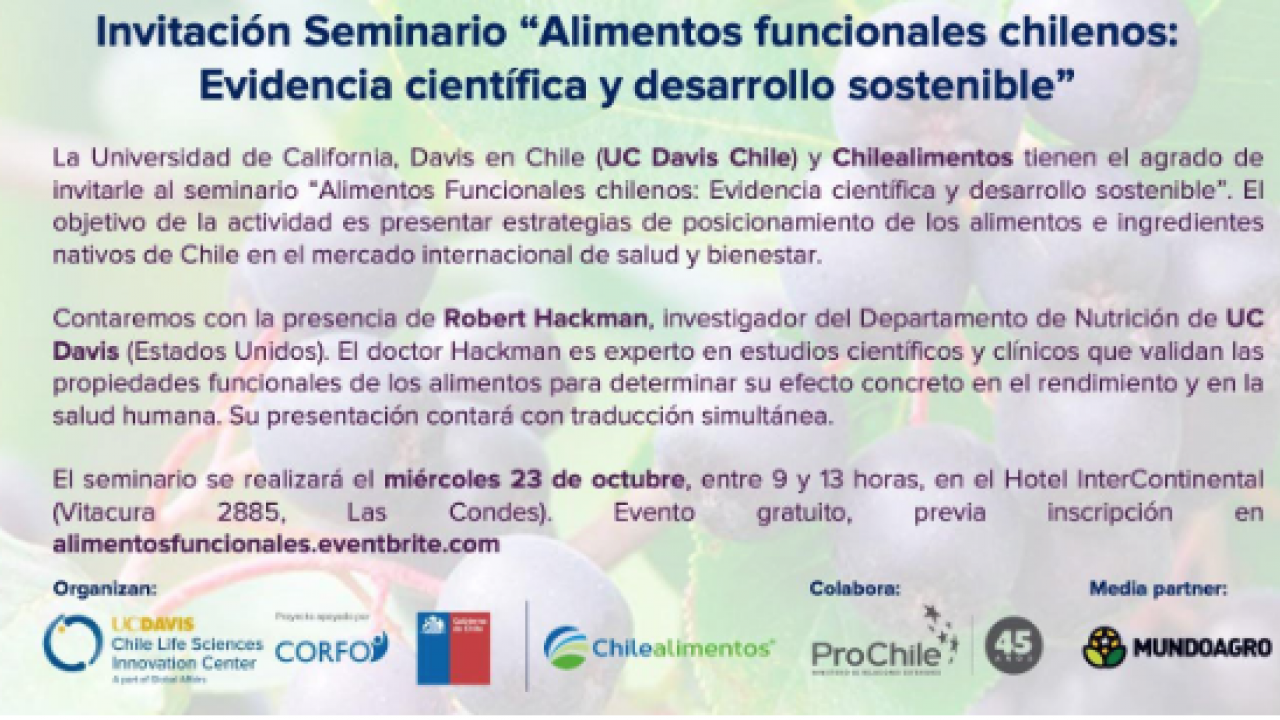 Chilealimentos and UC Davis Chile are organizing the seminar "Chilean functional food: Scientific evidence and sustainable development" for Wednesday October 23, from 9am to 1pm, in the InterContinental Hotel (Av. Vitacura 2885, Las Condes, Santiago).
El objetivo del seminario es abordar el potencial y los desafíos de los alimentos nativos chilenos en el mercado internacional mediante estrategias de posicionamiento por sus beneficios para la salud  basadas en evidencia científica -en problemáticas de salud con proyecciones de mercado- y la visión de modelos de negocio sustentables que consideren la incorporación activa de las comunidades locales y el manejo adecuado de los recursos naturales.
El evento contará con la presencia de Robert Hackman, investigador del Departamento de Nutrición de UC Davis. Hackman es especialista en estudios científicos y clínicos que validan las propiedades funcionales de los alimentos para determinar su efecto concreto en el rendimiento y en la salud humana. El doctor Hackman estudió su licenciatura en Ciencias Naturales en la Universidad Johns Hopkins, un máster en Biología y Nutrición en la Pennsylvania State University y su doctorado en Nutrición en UC Davis.
Las dos charlas en inglés contarán con traducción simultánea. Actividad gratuita, previa inscripción al email eangel@ucdavis.edu Cupos limitados
SEMINARIO Alimentos Funcionales Chilenos:  Evidencia científica y desarrollo sostenible
Fecha: Miércoles 23 de octubre
Lugar: Hotel InterContinental, Av. Vitacura 2885, Las Condes.
PROGRAMA 
9:00 a 9:20 horas: Inscripciones
 
9:20 a 9:40 horas: Palabras de Bienvenida 
Mauricio Cañoles, Gerente General de la Universidad de California, Davis en Chile (UC Davis Chile) 
Chilealimentos
 
9:40 a 10:00 horas: Francisco Rossier, Director de Innovación del Programa Estratégico Nacional en Alimentos. Las posibilidades de Chile en el mercado global de ingredientes y alimentos funcionales
 
10:00 a 10:20 horas: Alejandro Iglesias, QFD Production Manager de Vilkun. ¡Oda al maqui!, producción versus bioaccesibilidad
 
10:20 a 10:50 horas: Robert Hackman, investigador del Departamento de Nutrición de UC Davis (Estados Unidos). Scientific evidence as a positioning engine to promote the consumption of functional foods (con traducción simultánea)
 
10:50 a 11.00 horas: Zachary Britton, CEO de Front Porch, Inc. Sustainable business opportunities with social impact, a growing global trend (con traducción simultánea)
 
11:00 a 11:15 horas: Olivia Valdés, Food Science Coordinador de UC Davis Chile. Transferencia de modelos internacionales exitosos: cómo promover una plataforma de colaboración con impacto para la industria de alimentos nativos chilenos?
 
11.15 a 11:45 horas Panel de discusión y preguntas  
         COFFEE BREAK Y NETWORKING