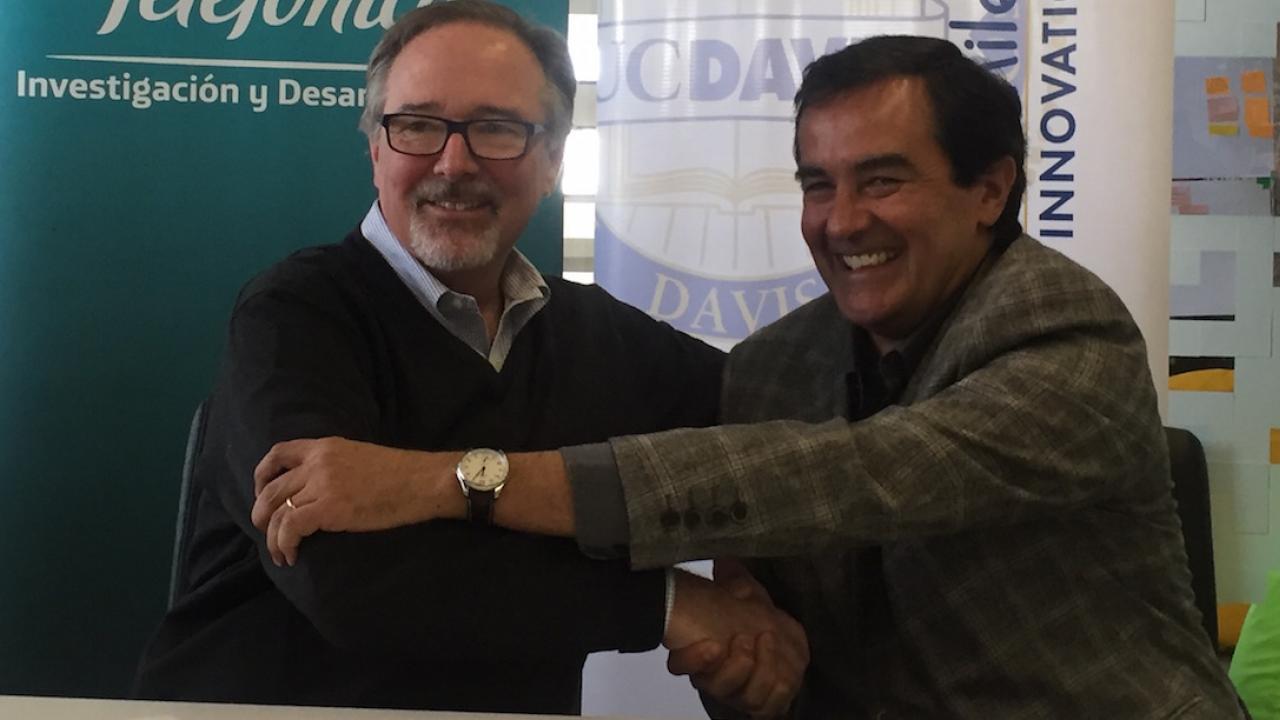 Facing the challenges of today's agriculture requires a multidisciplinary effort. For this reason, Hernán Orellana, executive director of Telefónica R+D, and Alan Bennett, executive director of University of California, Davis in Chile (UC Davis Chile) signed a cooperation agreement between the two institutions that form part of Corfo's Program to Attract International Centers of Excellence.
Telefónica R+D brings expertise in creating advanced technology platforms that improve the productivity and efficiency of the domestic industry, including the agricultural and agro-industrial sectors. UC Davis Chile also centers its work in the food industry, focusing primarily from the perspective of the life sciences.
The aim is that both institutions are able to investigate and jointly develop solutions in Internet of Things (IoT), that include life science variables such as the genetics of interest crops or of insects that cause diseases in them- that are useful to farmers.
"The development of applications that allow the management of data in the service, to improve efficiency and crop productivity is very common in the United States, but in Chile is still incipient. That is why this partnership is so promising" said Dr. Bennett, Distinguished Professor at the University of California.
Meanwhile, Hernán Orellana, executive director of Telefónica R+D said that "this agreement will allow us to improve the productive impact that technological solutions IoT, that we are developing in Telefonica R+D for Agriculture, may have, complementing themselves perfectly with research and UC Davis' knowledge in this industry, enabling us to jointly develop solutions that make the use of critical resources more efficient in Agriculture"
The agreement will run for two years with options to extend over time.