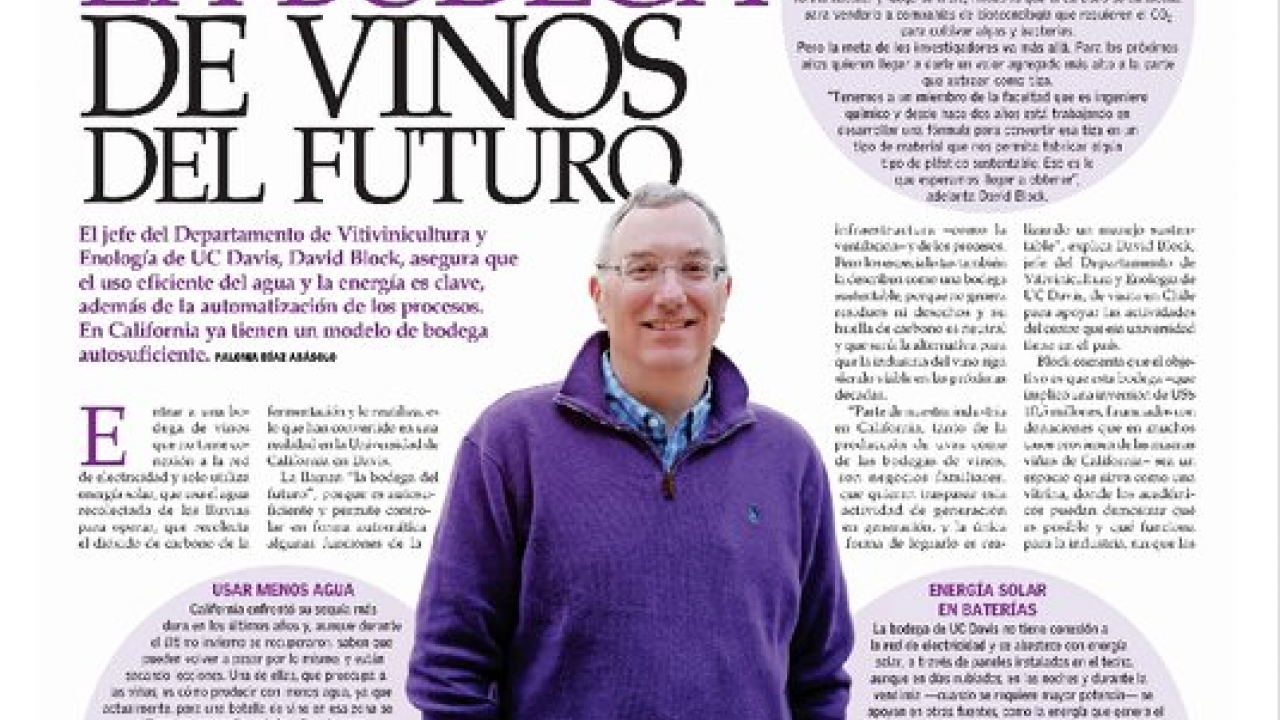 To enter a winery without connection to the electricity grid, only uses solar energy and collected rain water to operate, collects carbon dioxide from the fermentation and reutilizes it, has become a reality at the University of California, Davis.
They call it the "the winery of the future" because it is self-sufficient and enables to control certain functions of the infrastructure and of processes automatically - such as ventilation.  Experts however also describe it as a sustainable winery, because it generates neither residues nor waste and its carbon footprint is neutral and would be the alternative in order for the wine industry to remain viable over the next decades.
"Part of our industry in California, both in the production of grapes as well as the wineries are family businesses who wish to pass on this activity from generation to generation and the only way to achieve this is through a sustainable operation," explains David Block, UC Davis' Head of the Department of Viticulture and Enology who is visiting Chile to support the activities of the center which this university maintains in the country.
Block comments that the objective is that this winery – which involved an investment of 10.5 million US dollars, financed by donations which in many cases come from the same vineyards of California – be a space which serves as a showcase where academics may demonstrate that it is possible and that it will work for the industry without the companies having to run great risks.
For this reason they receive between 100 and 200 visits a year from producers and vineyards from all over the world who are interested in seeing what solutions are useful to them according to their reality, since they are innovations which can be implemented separately and not only once. "Some things work for any winery, others only for small ones and others for large ones. One of the objectives we have proposed is to work with our agrarian economists to analyze each team we add and be able to inform the vineyards if it will work or not, in each case. What we want is our visitors to return to their companies with ideas and enthusiasm to implement innovations", he states.
The academic –who is also a professor at the Faculty of Chemical Engineering - insists that it is not feasible to think of the future of the wine industry if things continue to be done in the same way. "In the future, in many cases, storing water will make the difference between being able to operate or not," he considers.
REUSING CARBON DIOXIDE
One of the serious problems of the wine industry is what to do with the emissions of carbon dioxide generated by wine fermentation.
For this reason the "winery of the future" has a system that captures the emissions inside the installations and "kidnaps" them to dissolve these bubbles in a chemical solution, enabling the solid part to be converted into chalk that precipitates naturally and then is filtered, whilst the carbon is stored to be sold to biotech companies requiring carbon dioxide for the cultivation of algae and bacteria.
The aim of the researchers, however, goes beyond this.  Over the next years they wish to give a greater added value to the part they extract as chalk.
"We have a member of the faculty who is a chemical engineer who has been working for two years on a formula to convert this chalk into a material which would allow us to manufacture some kind of sustainable plastic. This is what we hope to achieve," anticipates Block.
USING LESS WATER
Over the last years California has faced its toughest drought ever and although they recovered during the last winter, they are aware that this could happen again and are learning from this. One of these lessons which concern the vineyards is how to produce using less water, since at present, to produce one bottle of wine in that area requires six bottles of water.
"Some of these are really trying hard to reduce water consumption in their processes and have managed to use only two bottles, but by implementing the systems we have in our winery, our aim is to produce using only one bottle, so that the saving will start at 50% to significantly higher volumes," he explains.
One of the keys to saving water is to use tanks to collect rain water that is then treated in order to be able to use it and also to have an intelligent cleaning system of the wineries and tanks, similar to those of dairies which require less water.  Next year, however, they wish to go one step further and recover the water following cleansing, something which up until now, other food industries have not been doing.
SOLAR ENERGY IN BATTERIES
UC Davis' winery is not connected to an electricity grid and is supplied with solar energy by means of panels installed in the roof, although on cloudy days, at night and during the harvest time -when a greater potential is required- they supported by other sources of energy such as that produced by a bio-digester which reuses the solid waste from the grapes.
"We would like to be supplied 100% by solar energy and for this reason we are working on the implementation of a bank of lithium batteries that store surplus energy on sunny days," specifies Block.
For this purpose they are carrying out research on discarded batteries from electric cars –"we can't get enough new batteries for our installations," he explains – and the idea is to charge this bank during the day, although they have not yet defined a safe place to store the batteries. This solution should be operating within about 3 to 5 years and is supported by the General Electric Foundation who is interested in its future implementation on a commercial scale.
Category