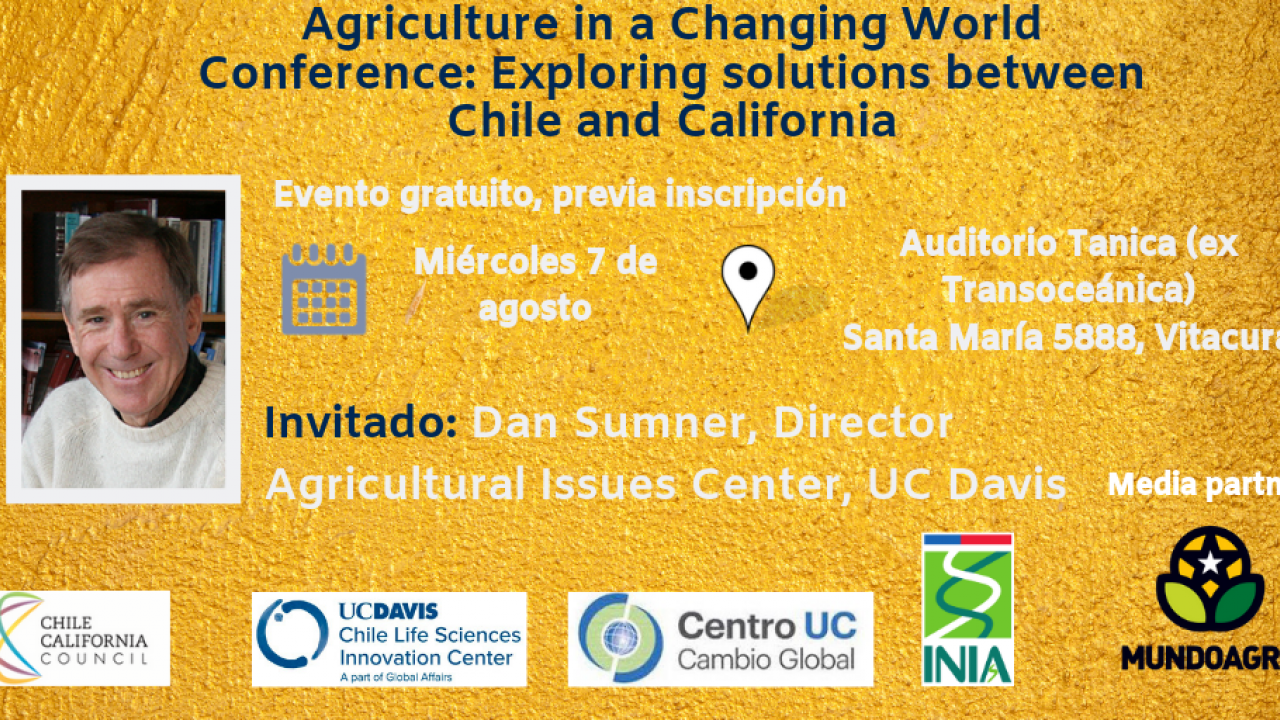 Chile and California are two of the few Mediterranean areas in the world that produce exceptional products such as fruits, vegetables, nuts, wine, among others. The Mediterranean areas are at risk due to climate change. Global warming and the decrease in rainfall will reduce its capacity to produce products whose demand is increasing worldwide. Several studies suggest that the agriculture industry has an important responsibility in the emission of greenhouse gases, and that the recovery of soils suitable for absorbing CO2 is imminent to reverse trends.
Under these climate change scenarios, new challenges arise in the management of agriculture in all its dimensions, and the concept of regenerative agriculture appears. Chile and California share the same context, which leads to the need to establish exchanges of experiences and collaboration for the future.
To register, click here
Partners: Tanica, COP25, Invest Chile.
Agenda:
08:30 - 09:00: Recepción y acreditación

09:00 - 10:00: Apertura de la jornada
o Bienvenida: Chile California Council – Matías Alcalde and Tu Jarvis
o Palabras Subsecretario del Ministerio de Agricultura de Chile
o Políticas y mercado en California: UC Davis: Dan Sumner
o Preguntas y respuestas
• 10:00 - 10:50: Keynote speakers (20 mins c/u)
o Contexto general de Chile y sus desafíos en un mundo cambiante: PUC – Francisco Meza
o Contexto general de California y sus desafíos en un mundo cambiante: UC Davis – Ben Houlton (Videoconferencia)
o Preguntas y respuestas
10:50 – 11:10: Coffee Break

11:10 - 12:10: MITIGACIÓN
Recuperación de suelos y agricultura orgánica regenerativa
o Ganadería regenerativa y captura de carbono: PUC–Rafael Larraín
o Certificaciones disponibles y sellos de sustentabilidad: iQonsulting - Isabel Quiroz
o Manejo de suelos como opción para la mitigación: INIA – Marta Alfaro
o Agricultura Vertical como solución a los desafíos de la agricultura: AgroUrbana - Cristián Sjögren
• 12:10 - 13:10: ADAPTACIÓN
Vulnerabilidad de cuencas, adaptación al cambio climático y comunidades de aguas subterráneas
o SGMA Groundwater Management: UC Davis – Sam Sandoval (Videoconferencia)
o Estado general regulatorio y saturación de cuencas: DGA – Carlos Flores
o Plataforma Agrícola Satelital PLAS: INIA – Claudio Balbontín
o Pasos concretos para los tiempos de hoy – COP25 / Triciclos – Gonzalo Muñoz
• 13:10 - 14:10: Almuerzo
• 14:10 - 15:10: DESARROLLO FUTURO
Experiencias en marcha
o Sustentabilidad y mercados: Hortifrut – Pía Walker
o Agricultura circular: Biofiltro – Matías Sjogren
o Opciones de financiamiento para procesos transformacionales: Doble Impacto – Sebastián Cantuarias
o Agricultura de precisión: INIA – Stanley Best
• 15:10 - 15:30: Coffee Break y Networking.
Tags